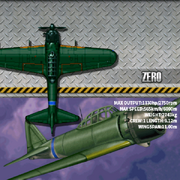 The Navy Type-0 Carrier Fighter (usually shortened to Zero Fighter) is a plane appearing as different models in Strikers 1945 (as the standard Zero) and Strikers 1945 Plus (as the Type 52).
One of the two Japanese planes (alongside the Shinden). Zero's options are very powerful, lobbing grenades and homing in on enemies when charged. Its bomb is bizarre and reminiscent of the bomb in 1943. A storm is called in, blasting all enemies on screen with lightning. It is surprisingly powerful, and possibly a reference to the Divine Wind, or Kamikaze legend. Zero is actually a great plane for beginners, due to its combination of power, speed, and homing.
In Strikers 1945 II, the Zero appears as enemies in various levels.
In Strikers 1945 PLUS, the Zero is a very slow plane. It has very powerful weaponry to make up for that, though. Its Supershot is the most powerful of all the planes.
Sub Weapon: Drop Type S-Bomb (Normal), Rocket Launcher (Type 52)
Formation Attack: Hunter Formation (Normal)
Super Shot: Type Zero Missiles (Type 52)
Bomb: God Wind (Normal), Fugaku Covering Fire (Type 52)
Specifications
Edit
Max power: 1130 HP
Wingspan: 1100 cm
Length: 912 cm
Height: 305 cm
Weight: 2743 kg
Top speed: 565 km/h
Armament: 20.7 mm x 2, 7.7 mm x 2
Extra Information
Edit
Pilot: Ai Mikami
First Appearance: Strikers 1945
The Zero Fighter appears in Kantai Collection as the Northern Princess's treasured plane, though it was claimed to have been stolen from Ryujo.

One of the Northern Princess's lines has her desiring the Zero.

The Zero Fighter's shot type is changed in Strikers 1945 Plus, going from a spread type to a straight type, because the model used for the game in the A6M5 Type 52.
In the Android version, this aircraft starts with its main shot at level 2 and 3 bombs, but will be locked for 2 hours starting with the moment it was selected, along with the P-51 Mustang, Spitfire Mk. VII, Messerschmitt Bf-109, and J7W Shinden.